Essential Benefits of Chatbots for Business and Customers in 2023
Have you ever interacted with an AI chatbot? If you have used live chat support on any website, then you must have witnessed these chatbots that are now emerging in taking up these as an innovative customer engagement tool. The new buzz in the business world is with businesses that use chatbots as an innovative customer engagement tool. In this article, we'll explore the essential benefits of chatbots for businesses and customers in 2023.
In this digital world, businesses are tending towards Artificial Intelligence (AI) to give users seamless and easy experiences. One of the primary uses of AI in such a scenario is using chatbots. These artificially intelligent bots can automatically converse with users and complete many tasks that were done earlier by human agents.
1What is An AI Chatbot
An AI chatbot is a software program crafted to mimic human-like interactions. It leverages advanced AI methods to comprehend and react to inputs from users, either via text or voice communication. These chatbots can perform a variety of tasks, from simple acts like placing a pizza order to providing detailed answers to queries or navigating users through intricate business-to-business (B2B) sales procedures. The capabilities of these AI-powered chatbots are so extensive and efficient that they sometimes appear almost magical in their operation.
Start a Free AI Chatbot Trial:
2What Are the Benefits of Chatbots in Business
1. Generate Leads
Chatbots are very useful in lead generation. They can interact with people visiting the website and potential customers, gathering vital information such as contact data and preferences. This information gathered can be used to categorize these leads and for focused marketing that can be performed subsequently to convert leads into loyal customers.
2. Increase sales
Chatbots are not limited to generating leads; they can also help drive sales. Being available all the time, they become mobile sales representatives. They can provide information related to products, instigate confidence in buyers, give them a reason to make a purchase decision, and even take them through the product checkout faster. This accessibility and assistance can also result in greater sales because the customers do not have to wait for normal business hours to get information.
3. Save costs
Chatbots are cost-efficient. It provides customer service efficiently without needing a human 24/7 to do the same task. This cost-efficient approach to managing customer queries lowers the need for hiring and training additional people, which is why it is one of the best assets businesses can have to manage their budget effectively.
4. Improves Customer Engagement
Chatbots are not mere question-answer machines but create engaging and interactive conversations. Chatbots can significantly enhance customer engagement by applying natural language processing and personalized responses. This helps build better relations with customers and increases brand loyalty.
5. Enhance conversational commerce and marketing
In an era where personalization is the game in place, chatbots can personalize every marketing message and product recommendation based on every user. By studying data about users and their behavior, chatbots are able to market more relevant and suitable campaigns, hence leading to a higher conversion rate.
6. Decrease bounce rate
High bounce rates may be the business killer. Chatbots can engage users proactively, offer them help, reach out to them, and take them through the content on your website. In this way, they take care that users are engaged and stay for longer periods, which might greatly reduce bounce rates.
7. Collect customer feedback
Chatbots are also good at gathering feedback from customers in real time. They can do surveys, ask for opinions, and address issues that give businesses useful insights to improve products and services further.
8. Help with A/B testing
A/B testing is big in marketing, and chatbots can be a big tool for it. They can help run A/B tests and collect customer responses and their preferences, amongst many other information. This can assist companies in deciding what works best for their target audience, thus increasing the efficiency of their marketing.
9. Reduce Customer Requests
There are general inquiries and normal questions asked by some of the visitors. Every chatbot is great at responding to such questions, freeing human agents to deal with more complex problems, and improving overall customer service quality.
10. Improve agent training and onboarding
Customer service agents can be trained by chatbots. They are a consistent knowledge base and can help the new agent learn through interaction, mimicking real-life interactions with customers from common to most cases.
11. Serve more customers at scale
It is one of the most intriguing things, as far as chatbots are concerned, that they can be scaled quite easily. They have the capacity to hold conversations with more than one user at the same time, which means that customers do not need to stand in queues for hours waiting for their turn for help, especially during peak hours or when a number of queries come all at once.
3The Benefits of Chatbots for Customers
Chatbots, particularly innovative solutions like ChatInsight.AI, are not just transforming business; they are also revolutionizing the customer experience. In an age of digital convenience, customers expect efficient and personalized interactions, and chatbots are delivering precisely that.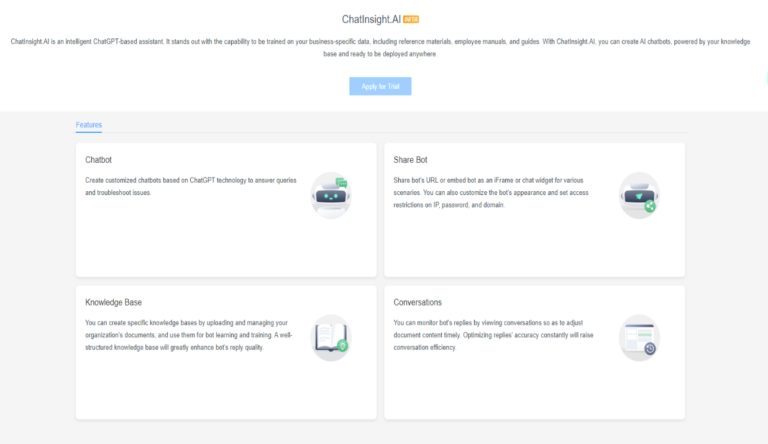 ChatInsight AI chatbot is a cutting-edge AI-powered knowledge-based bot built on ChatGPT that is redefining the way businesses engage with their customers. It centralizes knowledge and data, allowing businesses to scale both internal and external support. Here are the key benefits of chatbots for customers:
Provide Customer Support 24/7: Chatbots work 24/7. They don't sleep, so your customers can ask for support anytime, day or night, in every time zone, and even during holidays. This will provide a higher level of customer satisfaction and loyalty.
Faster Response Time: Chatbots give quicker responses to customer queries. Fast replies save a lot of time for the customer, which is wasted in waiting in long queues or for email responses and hence enhances satisfaction levels.
Deliver Multilingual Support: As globalization is thriving more and more in the market, chatbots can speak to customers in their preferred languages. This makes international customer support easy and inclusive.
Offer More Personalized Experiences: Chatbots can use customer data to consider personal preferences and design experiences that cater to them. They do this by giving customers personalized product recommendations as well as answers to their queries.
Proactive Customer Service: Chatbots can be used to begin a conversation or provide customers with useful information before having it requested. For instance, they could inform consumers about the forthcoming sales or offer advice on products as proactive customer service.
Reduce Abandoned Shopping Carts: Many customers leave their shopping carts due to unanswered questions or unresolved issues. Chatbots can interrupt and provide solutions immediately, thus averting cart abandonment and resulting in more sales.
Deliver Omnichannel Support: Chatbots are flexible to switch from one communication channel to another, like websites, social media platforms, messaging apps, and so on. Customers get a combined experience in one place and communicate over their preferred medium with zero friction.
Answer Your Customer FAQs Automatically: Chatbots are really good at answering repetitive and frequently asked questions. They can provide answers to FAQs quickly, leaving human agents free to deal with other, more sophisticated issues, therefore improving the overall efficacy of the business.
4What Are the Disadvantages of AI Chatbots?
While chatbots offer numerous benefits, they are not without their limitations, and it's essential to be aware of these potential drawbacks:
Lack Human Empathy
Chatbots, though prompt and efficient they are in responding back with answers, can't be empathetic or know emotions as human customer service agents do. Chatbot support proves to be a disaster when it comes to emotional support for the customers or in situations that require careful handling of the matter. They cannot sense the modality of voice or body language, so empathetic responses are also difficult. This lack of capability may cause customer annoyance and dissatisfaction, especially in areas where emotion is needed, such as health care or counseling work.
Maintenance Challenges
Maintaining these chatbots that guarantee perfection and timeliness is a demanding task requiring considerable resources. The systems need to be supervised, trained, and refined on an ongoing basis to maintain accuracy in giving responses to queries. Chatbots that are not maintained risk providing outdated information and offering contrary services to what customers require, which is frustrating. This means organizations have to continue their investment in maintenance chatbots so as to realize value from the tool.
Limited Functionality
Chatbots are superb at doing routine and simple tasks like answering frequently asked questions or processing rudimentary transactions. However, complex queries that require more critical thinking with problem-solving solutions may not be best handled by chatbot. Chatbots are also limited in addressing new situations that go beyond their programmed scripts. A chatbot model will, therefore, not be able to provide the needed solution for a certain situation. Human intervention is thus necessary to answer the user's questions accordingly.
Privacy Concerns
Chatbots usually handle sensitive customer information like personal details, transaction history, or sometimes even medical data. So, high-performance bots require a strong security set-up to ensure that their servers aren't hacked, and customers' invaluable user data isn't misused. A security breach can put customers' data and an organization's reputation at risk and have legal consequences. To avoid such risks, companies must focus on their data privacy by applying very strong privacy measures.
Dependency on Technology
The more we begin to rely on technology for customer interaction, the more inclined it becomes to dehumanize this particular interaction. Relying solely on chatbots may remove the human element that a certain amount of customers still appreciate. Some customers will prefer speaking with a human agent, especially for more complex issues or just because they value the human touch. Relying heavily on chatbots means that your customers may not be satisfied and might look elsewhere for business. Striking the right balance between automation and human interaction is very important in ensuring that customer satisfaction and trust are maintained.
Conclusion
In conclusion, chatbots, and in particular, advanced solutions like ChatInsight.AI, are becoming integral to the evolution of business and the dynamics of customer relationships. The benefits they offer, such as lead generation, cost savings, improved customer support, and personalized experiences, are simply too valuable to overlook. However, it's crucial to strike a delicate balance between the convenience provided by automation and the emotional touch offered by human interactions.
As we look to the future, the role of chatbots in organizations and customer support is not only here to stay but poised to grow in importance. Anticipated advancements in AI and NLP are likely to further enhance the capabilities of chatbots, making them even more indispensable in the business landscape. In a world where time is of the essence and customers demand quick and efficient service, chatbots are here to stay, providing essential solutions that benefit both business and their customers.
Was This Page Helpful?